Massage Therapy in Valrico, FL
The benefits of massage therapy from a licensed massage therapist go far beyond those initial feelings of relaxation and ease. From back pain to muscle aches, or just to treat yourself to a little time away and well-being, there are many reasons to consider a massage.
Life is stressful. Work, kids, responsibilities, errands, daily activities; all take their toll, and not just on our bodies. That is also one of the reasons why massage therapy is so popular. From techniques like a deep tissue massage to any number of massage therapy treatments, massage does more than help your body feel better.
The Benefits of Massage Therapy
At Blu Indigo Spa & Wellness, our therapists are not only licensed and trained in the State of Florida but also caring and friendly professionals. An experienced therapist will sit down with you to talk about your goals, then work with you to tailor a massage therapy treatment plan for your needs.
There are also many benefits and issues that massage therapy can address. From tight muscles to back soreness, or even improved physical and emotional well-being, here are a few issues that massage therapy is used to treat:
Pain Management
Physical Rehabilitation and Recovery
Sports Injury Healing
Headaches
Tendonitis
Osteoarthritis
Fibromyalgia
And More
Yes, a massage is a great way to treat your mind and body to some well-deserved R&R, but that is only where the benefits of massage therapy from a licensed therapist begin.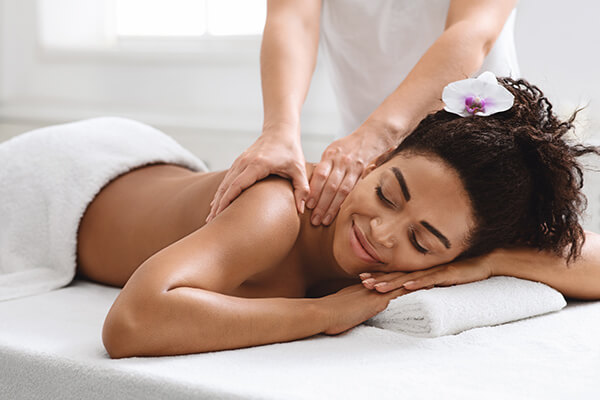 Swedish, Therapeutic Massage, and Deep Tissue
Our Blu Indigo Customized Massage is personalized to your specific needs, with options including a Swedish, therapeutic or deep tissue massage.
Specialty Massages We Offer
1) Hot Stone Massage:
Deeply relaxing, therapeutic, and gently detoxifying, this hot stone massage uses Basalt Stones, high in the element iron, to gently heat the body to release tension deep in the muscle and fascia fibers. Deeper pressure can be applied most times with no discomfort or potential massage hangover the next day with other deep massage modalities. Clients are massaged with the hot stones which will also activate the theta healing state which allows for the relaxation and healing of one's nervous system affecting the mind, body, and soul. It is highly recommended for anyone dealing with emotional or physical stress stored in the body and the relaxation benefits have been reported to last more than a day. This treatment can also be paired with one of our signature facials, IV therapy, Aromatherapy, or a detoxifying foot scrub. We recommended that 80 minutes minimum is booked for this treatment and you are well hydrated the day of your appointment. This is the perfect massage to get grounded energetically and mentally when dealing with the hustle and bustle of daily life.
2) Manual Lymphatic Drainage:
A series of sessions aimed at moving Lymphatic Fluid through the body and into the Lymph Nodes for removal from the body. Work is a light pressure done in a precise manner to facilitate movement in the correct direction. Work is mostly done post-surgical or in cases of Lymphoedema. Physician recommendation is usually the reason for this modality.
3) Medical Massage:
An outcome based therapy that targets a specific problem the patient presents with a doctor's diagnosis and any relevant documentation. This treatment is administered after a thorough assessment by the therapist. During consultation, achievable goals are set to be fulfilled with routine sessions. Medical Massage is often used to manage chronic pain, reduce inflammation, improve circulation and digestion, relieve nerve compression, increase flexibility or treat other health care concerns.
4) Myofascial Release Massage:
Do not settle for knock offs here with this modality. It requires a deep knowledge of physiology and good communication between client and therapist. What you can expect is an all over body experience unlike many other manual modalities. A lotion less manual therapy that works where the therapist "hooks" into the body's fascia to stretch, release and lubricate the tough membrane of connective tissue that runs throughout the body and organ systems including the brain. The fascia imbalances have been discovered to interfere with the nervous system's natural communication between the body and the brain. By releasing impingements and lubricating dehydrated tissues the nervous system communications can be reestablished and healing can begin. MFR can relieve fibromyalgia symptoms, arthritic symptoms, and help heal from surgery or joint replacement. It can help accelerate healing from injury and help tone and revitalize the skin reducing the signs of aging or cellulite. This treatment can also be paired with one of our signature Facials, IV therapy, Aromatherapy, Body Sculpting, detoxifying Body Wrap/Scrub, or a detoxifying foot scrub. Recommended that 80 minutes minimum is booked for this treatment and you are well hydrated the day of your appointment.
5) Neuromuscular:
Soft tissue manual therapy that is suggested for people who have long standing or chronic muscle and nervous system disorders by releasing activated trigger points, circulatory issues, nerve compression, joint impingement, headaches/migraines, and postural disorders like head forward position or what is commonly being referred to as "Tech Neck." This modality works wonders in conjunction with chiropractic care. We suggest purchasing a package and treat this important therapy as being a treatment plan to alter ongoing structural and muscular imbalances. It is a deeper treatment, and we will always recommend using a topical Magnesium product in addition to our favorite topical analgesic Deep Blue and having Arnica Gel on hand to treat any tenderness that could occur the next day. It is not recommended that this is your first massage ever appointment. This package includes a consultation visit to powerfully set you up to get the maximum benefit from the corrective treatments you will receive that will last.
6) Prenatal:
Massage done after the first trimester if not considered High Risk. Massage is done in a side lying position to keep pressure off the Vena Cava (the main blood supply to the fetus) Pressure is moderate to firm. Certain areas of the body are only given lighter pressure and will be discussed with the client.
7) Reflexology:
This type of massage is based on the ancient Chinese belief in qi or vital energy which flows through each person and can become blocked due to stress and anxiety. Science has proven there is a neurological link between the skin and internal organs. By applying pressure to specific reflex points in the ears, hands, and feet using a intricate technique your reflexologist sends a calming message from the peripheral nerves in these extremities to the central nervous system, which in turn signals the body to adjust tension levels to allow blockages to clear that may otherwise lead to fatigue and pain, or illness.
8) Reiki Massage:
Healing technique which removes blockages and balances the Energy (chi) within the body associated with the Chakras. Reiki is used to encourage emotional, physical, and psychological healing. Work is done with the client clothed while laying on the massage table. Physical contact may or may not be used during a session. A Reiki Master has attained the certification level to teach Reiki.
9) Sport Massage:
We suggest this type of massage is purchased in a package to support pre and post event treatments given that they generally vary from visit to visit leading up to an event and specialized care and recovery post event. This package includes a consultation before starting the series to powerfully set you, the client, up to do your best competitively and recover like a champ. This package would pair excellently with a Health Coaching package for preparation and recovery assistance, IV therapy, detoxifying therapies, and who would love a signature facial. This package can be one hour or 80 minute sessions.
10) Assisted Stretch:
A combination of static-passive stretches to increase flexibility, mobility as well as strength. The object is to maximize the range of motion, increase mobility, blood flow and reduce muscle tension. Work is done primarily on the massage table with some work done while in a standing position. Clients should be dressed in workout wear.
11) Thai Style stretching:
Also known as Table Thai Massage, this type of bodywork combines a variety of mildly intensive stretching movements with gentle rocking and rhythmic muscle compressions. This treatment is designed to increase flexibility and joint mobility, improve posture, balance and correct body alignment. By performing this bodywork on a table instead of the traditional floor mat, it allows those with physical restrictions to benefit from this incredible technique.
12) Cupping:
This modality is based on an ancient alternative healing modality sometimes referred to as fire cupping where glass cups are heated up and placed on the skin to create suction. Now many practitioners use a small pneumatic pump and cups made of acrylic to create suction on the skin. Its most mechanical benefit to the client is to release adhesions in the muscle and fascia fiber that cause restrictions in the flow of lymphatic fluid and range of motion.
Oftentimes chronic pain can stem from the fact that the painful area in the body has had a dramatic decrease in the flow of nutrition (blood) to the area or the metabolic waste gets trapped and cannot flow away to be eliminated. Another great reason to stay hydrated when dealing with chronic conditions. The cups are placed in areas to draw in blood to an area and intentionally cause inflammation to induce the body's healing mode. Sometimes this can create round dark areas on the spots treated depending on the degree of release of the adhesions. Big release could mean dark spots. Eventually they will be processed by the body and Arnica Gel is always a recommendation to treat the area at home 24 hours after cupping has taken place. This treatment can also be paired with one of our signature Facials, IV therapy, Aromatherapy, Body Sculpting, detoxifying Body Wrap/Scrub, or a detoxifying foot scrub. Recommend that you are well hydrated the day of your appointment.
13) Foot Scrub & Body Glow Scrub Massage:
Using only the highest quality ingredients, these treatments are second to none. The skin on your entire body, or your feet and ankles is gently brushed to stimulate your lymphatic system and gently open the pores. The largest pores on the body and the feet have nerve endings for all the organs right on the sole. Bathed then in warm citrus-based oil, the retexturing crystals are sprinkled on and gently "scrubbed" over the skin of the entire body or the feet, then you're wrapped in a hot blanket. After the "basting" time is up, the wrappings are removed and the Retexturizing crystals are dissolved in with massage lotion, absorbed into the skin leaving your entire body or feet pampered, hydrated, exfoliated, nourished with the proprietary Retexturizing blend of herb, and massaged. This treatment is perfect for everyone who has chronic pain, trouble with their immune function or perhaps wants to have smooth and healthy skin.
Blu Indigo Spa & Wellness
It doesn't matter if you are looking for deep tissue massage services or just a little self-care time, the team at Blue Indigo Spa & Wellness is here to help. If you live in or around the Valrico, Florida area, then a day at the massage spa may be closer than you think.
Give the gift of massage to someone you care about or to yourself, and let a professional massage therapist at Blu Indigo Spa & Wellness massage spa gently work your aches and worries away. Contact us today if you have any questions or to schedule a session with a licensed massage therapist today.